20 Apr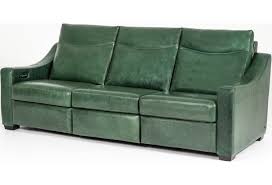 Peerless Furniture has a lot to be proud of. The main thing is that they offer some of the best brands on the market. You won't be able to find any item at this store that is low quality. It's important to them that they only offer the best, and that's precisely what they do with American Leather, MaxDivani, and Flexsteel.
The American Leather brand that you find at this local store has some great modern options of leather furniture to choose from. American Leather is a luxurious brand made in Dallas, Texas. They use the best materials to create their furniture, including the finest leathers. One of my favorite pieces from this brand right now is the Sarasota reclining sofa. First, this sofa is part of a sofa group, so you can purchase it in a variety of different shapes, such as a sleeper, sofa, and as a sectional. This sofa has a sloping arm that adds some really fun details, and you can have the back cushion customized in its design. You can choose the Hills, Ridge, or Valley cushion style. Regardless of which one of these features you choose, you'll get to control the footrest and headrest individually. If you're looking for a piece of furniture that can double as a piece of artwork in your living room, then this sofa will be an excellent choice.
Visit Peerless Furniture, a leather furniture store near Troy, and check out the amazing American Leather Sarasota sofa group to see if it would work for your home. Bring photos of your home to help you visualize if different pieces would look good paired with your style. The team at this store will help you throughout your shopping process too. You'll love shopping at Peerless Furniture from start to finish.